Captain Website
... stuff about the internet
WordPress Setup on Bluehost
WordPress is a free CMS – Content Management System that allows anybody to have their own online blog or website on the internet. It is the World's most popular software for websites, but setting it up yourself can be a daunting experience if you don't know what you're doing. Fortunately 'Bluehost' has a quick and easy way to install WordPress and get your own blog or website up and running in just a few clicks with no technical experience required. They also have lots of great offers on web hosting at low prices – see the setting up tutorial below and then click through to Bluehost when you're ready to sign up.
(opens in new window) or continue reading below
What To Expect when you signup and setup your own WordPress Website:
Clicking the 'get started now' button at Bluehost gets you up and running in minutes.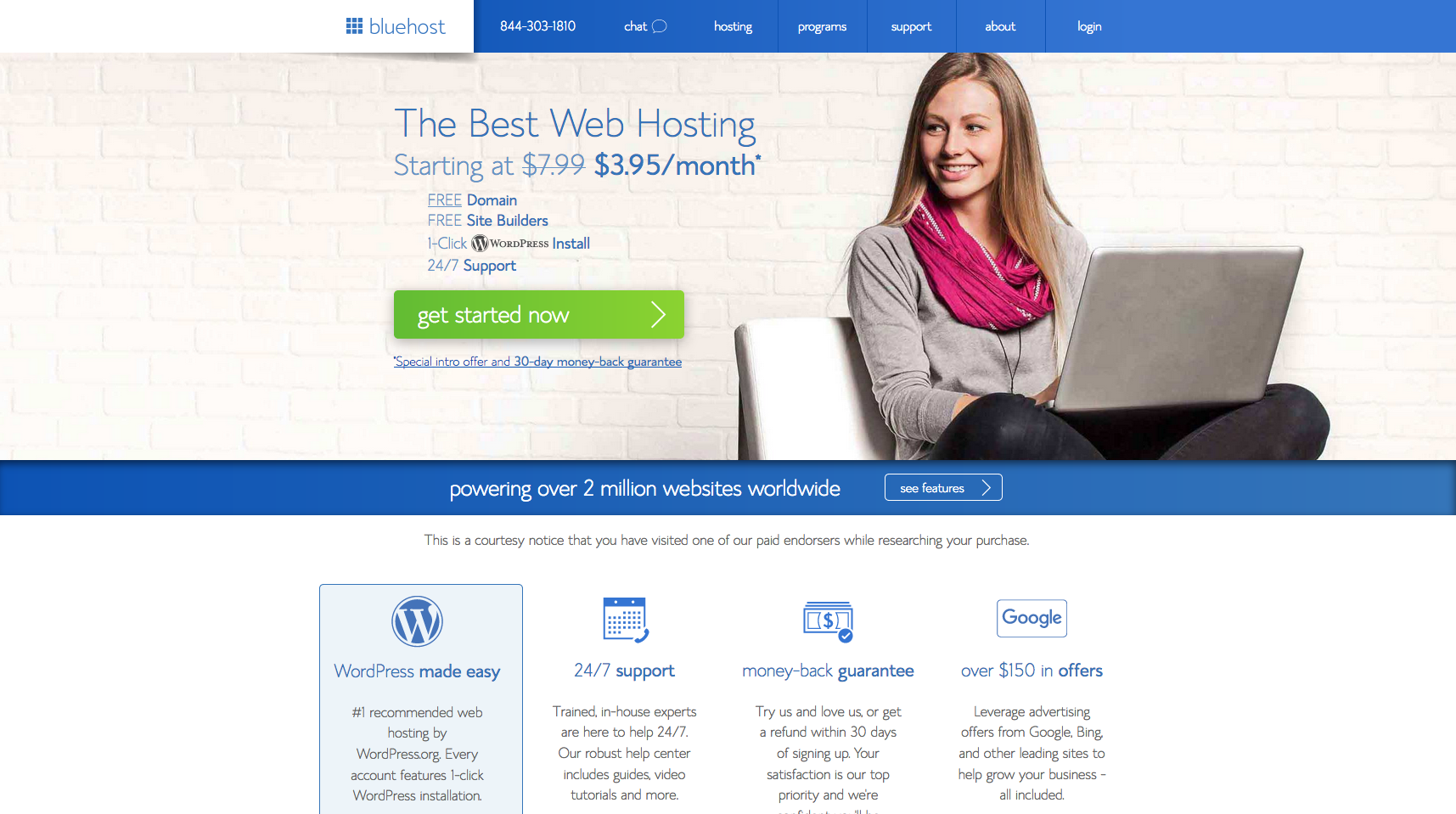 NEXT STAGE: SELECT YOUR PLAN.
If it's just a single website you're launching then the basic option works just fine. Otherwise the advantages of paying just a little extra and getting the 'plus' or 'prime' plans means you can have multiple websites on your account. Unless you plan on having a huge single website with lots of photos or videos then it's doubtful you'd ever exceed the 50gb 'website space' offered with the 'basic' plan. However, the advanced plans offer unlimited space and many more extras, PLUS once you get the blogging bug you will no doubt want to launch extra websites so consider carefully what they offer, especially any deals, and go for what you can afford at the time – it makes sense in the long run. You will be able to upgrade your plan with them if you need extra facilities in the future, though not necessarily at the special offer prices available at initial setup. Bluehost prices are excellent value for money when you consider what they give you,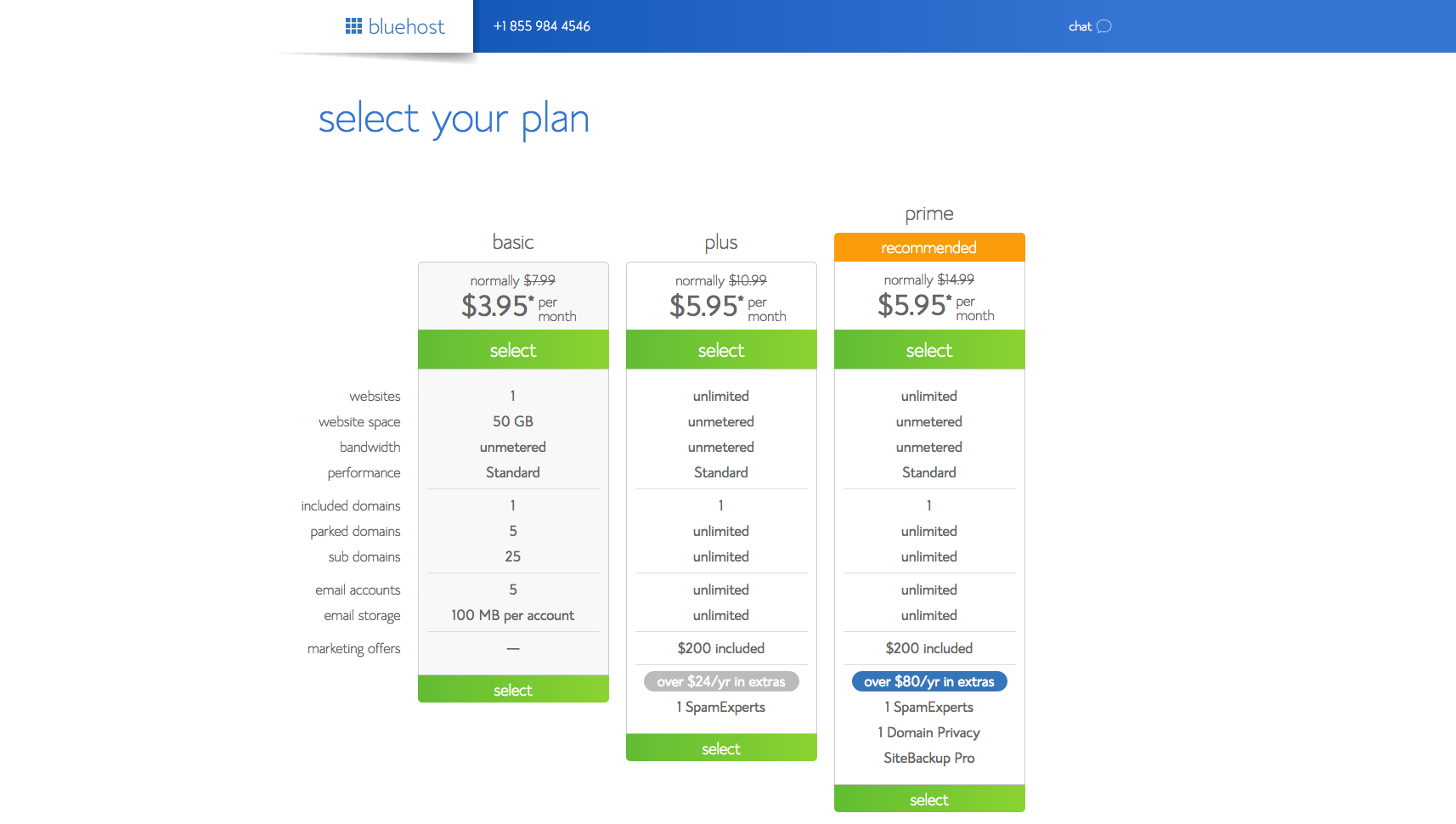 NEXT STAGE: DOMAIN SETUP.
In this next stage you'll either choose a new domain name for your site or if you already have a domain name you can enter the details and they will explain to you the process of 'pointing' your existing domain name to their servers.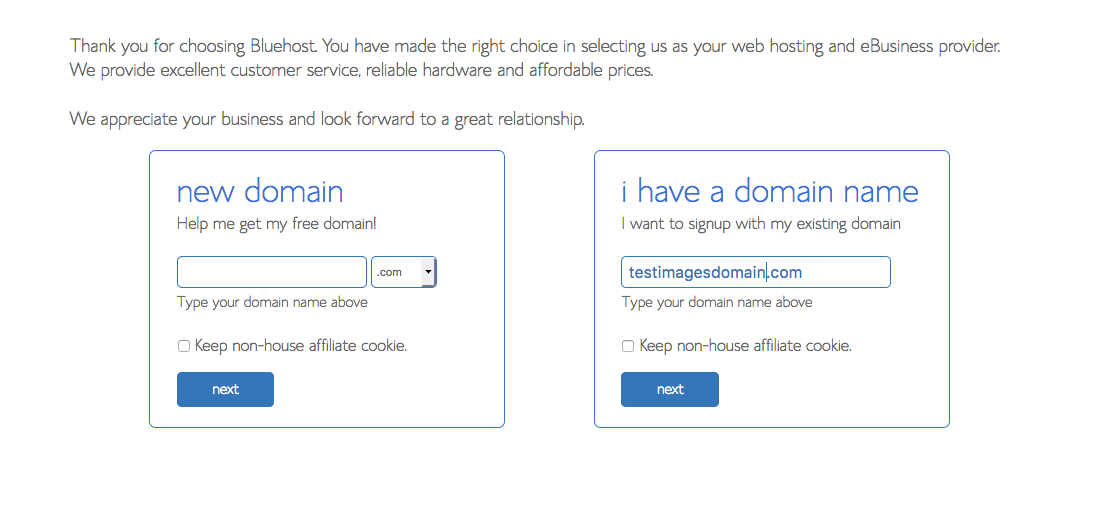 NEXT STAGE: ACCOUNT INFORMATION.

In this next stage you put in all your account information – name, address, email etc. plus it will confirm the package you've chosen to go with – pretty standard signup procedure.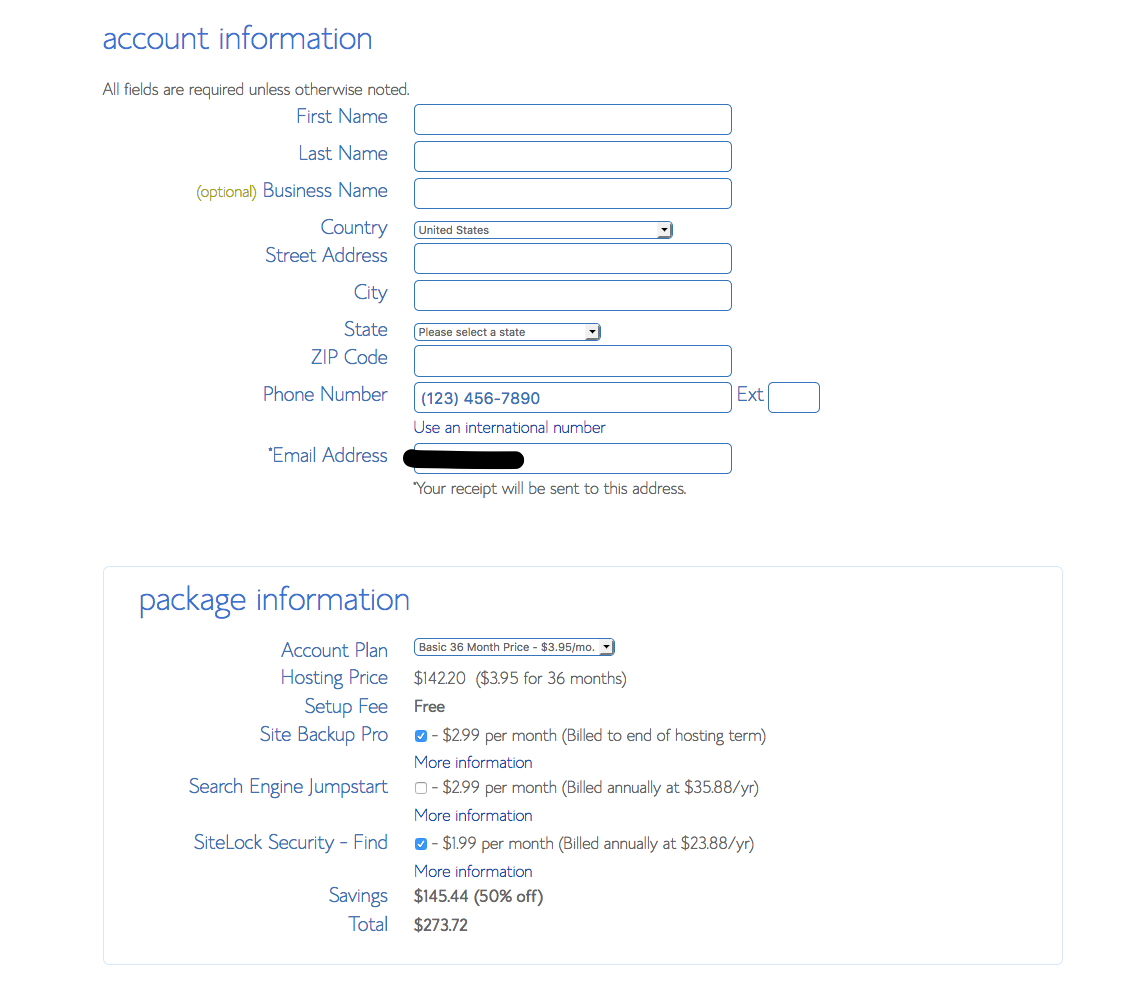 NEXT STAGE: PAYMENT DETAILS.

Next you choose your payment options – Bluehost accept debit and credit cards including American Express, Discover, Master Card, and Visa, plus you can opt to pay by Paypal.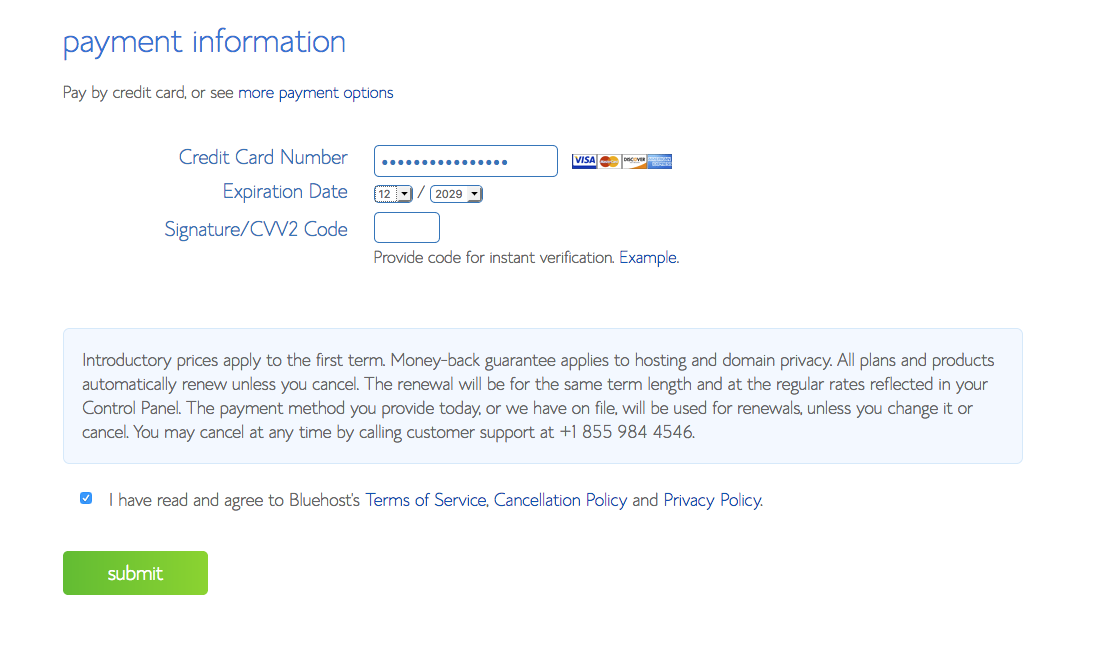 NEXT STAGE: PASSWORD

In this next stage you get to choose your password – self explanatory really.

NEXT STAGE: PASSWORD ACCEPTANCE.

As with many password choices make sure you use one that's not too easy to crack. e.g. mixture of numbers and upper and lowercase letters etc. The green ticks indicate if you've entered the details correctly.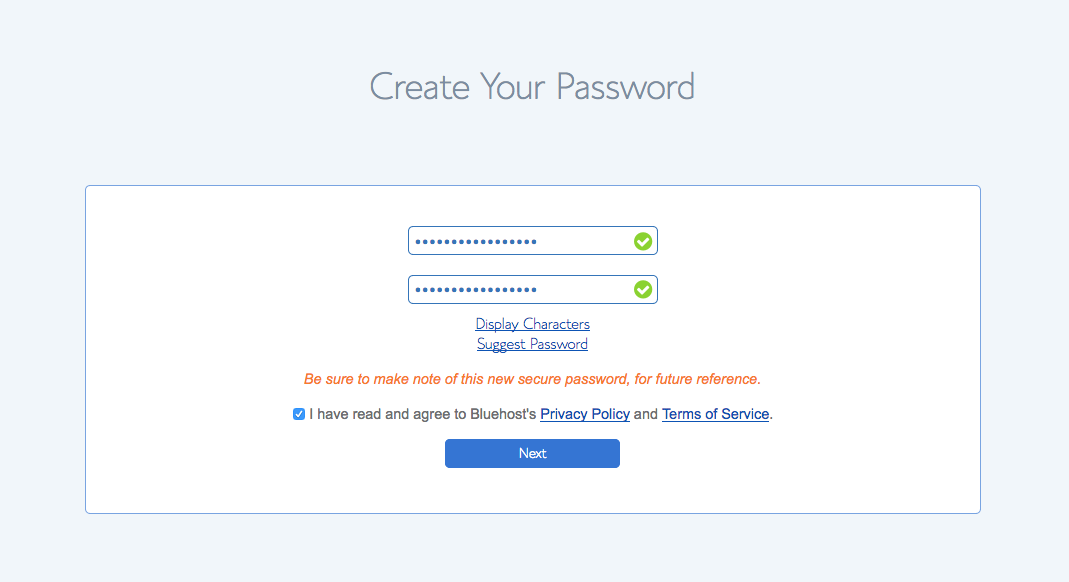 NEXT STAGE: ACCOUNT SETUP SUCCESSFUL

Congratulataions are due at this stage, so give yourself a pat on the back – you've successfully setup your new account. You're not quite done yet though, this was just the account itself, you have a couple more things to do to get your website or wordpress blog up and running – read on.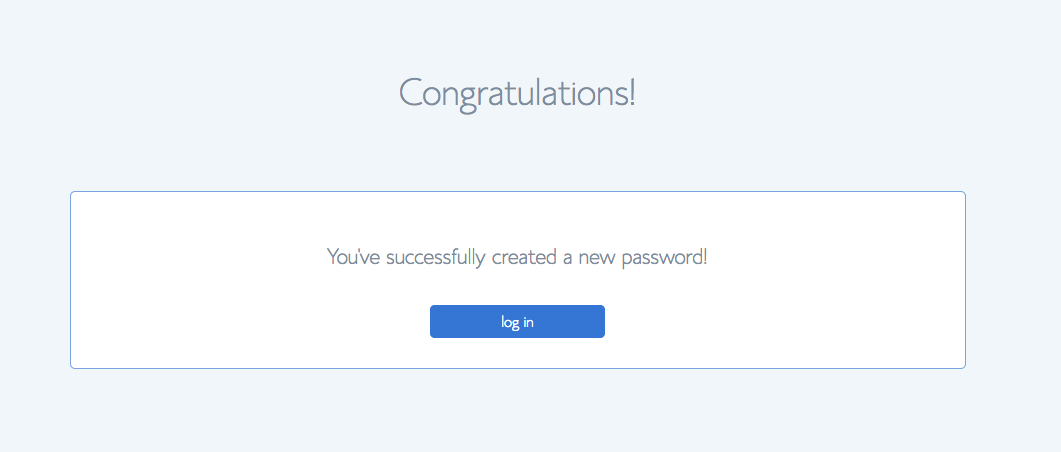 NEXT STAGE: PICK A WORDPRESS THEME

In this next stage you can either run with the bare bones version of wordpress which isn't pretty at all, or choose a quick theme to kickstart your site with. There are thousands of themes available to use, some free and some paid for depending on your needs. Bluehost give you some to start with plus you can always change a theme at any time through the wordpress control panel.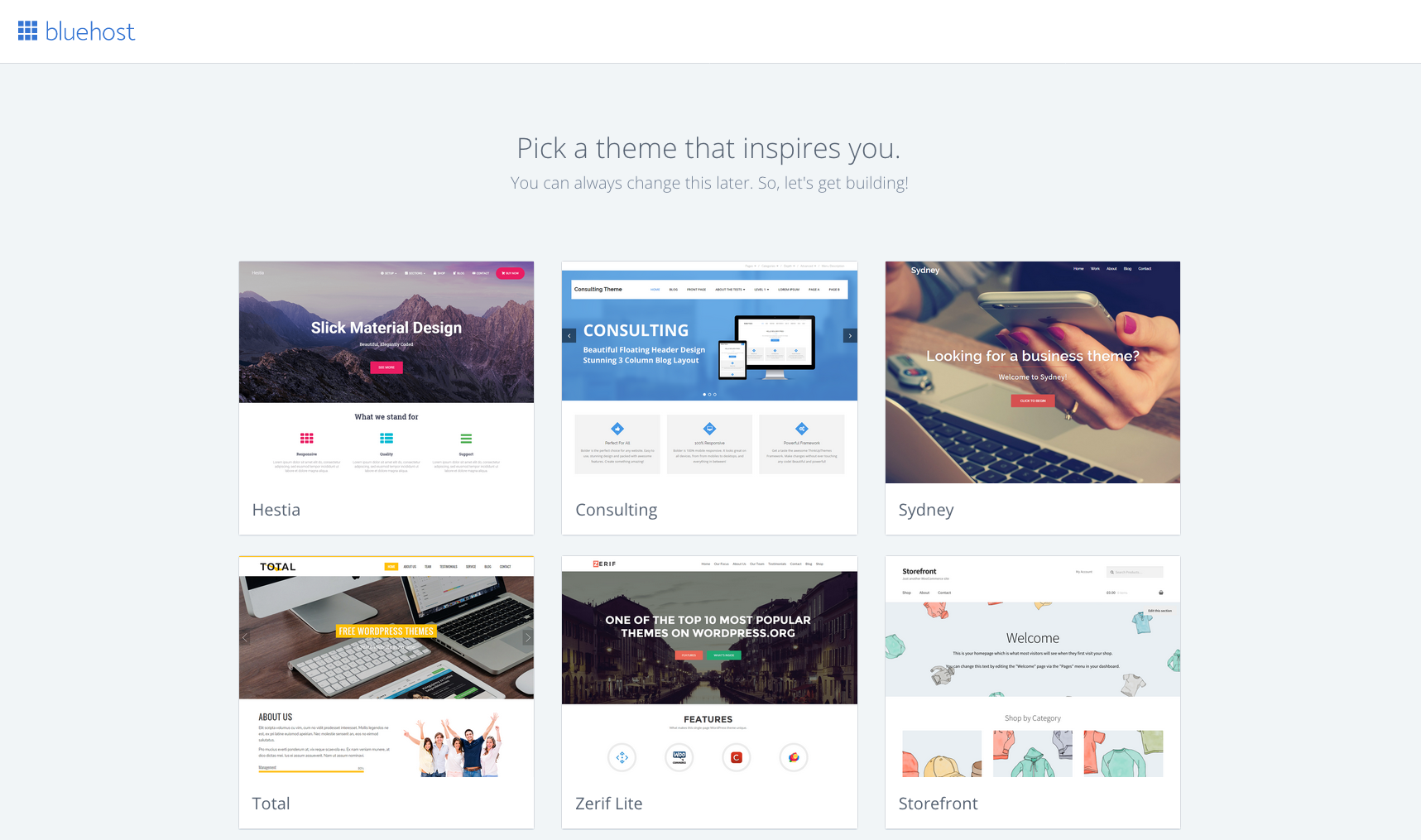 NEXT STAGE: BUILDING YOUR WORDPRESS BLOG

It's time now to start working on your site

NEXT STAGE: ENTER THE WORLD OF WORDPRESS

Once you're logged into wordpress the welsome screen asks you a few bits of information to get you started – whether your website will for business or personal use etc. Don't be afraid to click all the buttons on the left hand menu, they will expand or open up new pages to allow you see what each section controls and you can customise your site to suit your needs.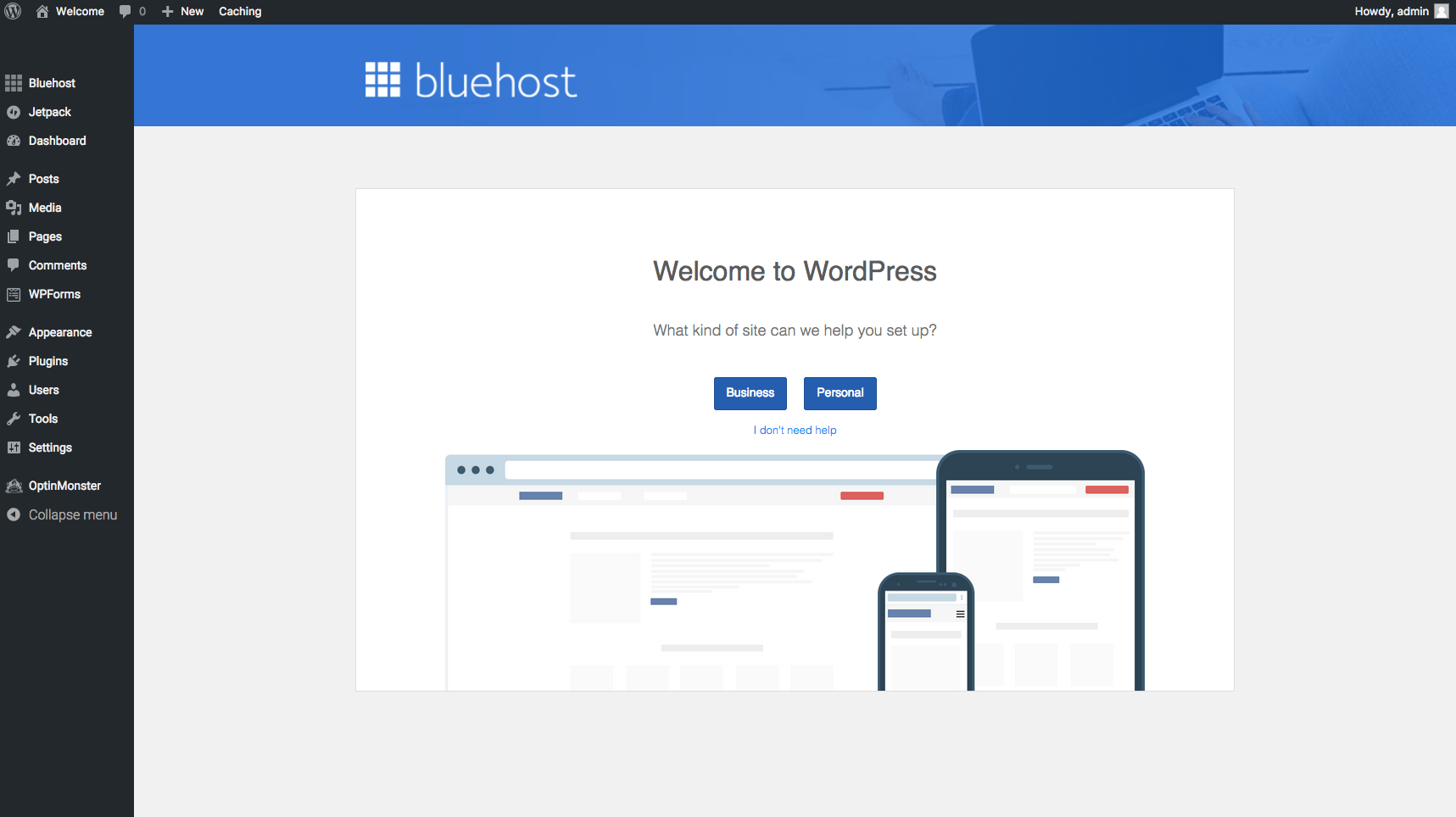 NEXT STAGE: BUILDING YOUR NEW WORDPRESS WEBSITE

This your opportunity to get creative. Worpress can be used as a traditional blog by adding 'posts' which you can add to each day or week or month. Blog posts can be in categories, plus you can invite viewers to submit comments etc. You can also build a full blown business website by adding pages – 'about us', 'products', 'contact us' etc. all accessible by the menu bar.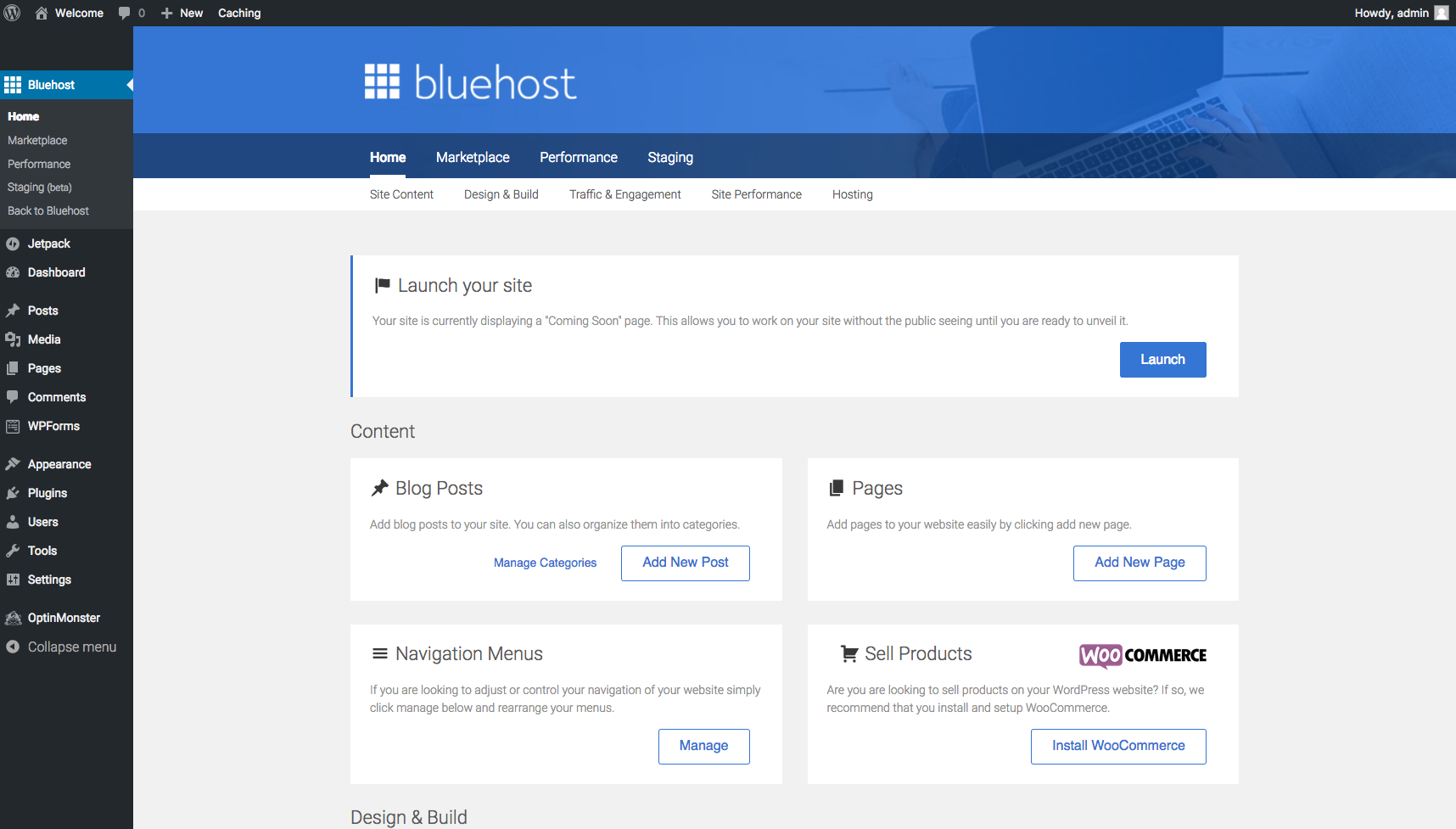 NEXT STAGE: LAUNCH YOUR WEBSITE

It will take you a while to get used to the capabilities of wordpress but you'll quickly become used to how things are set up. Remember, you can always amend things easily, and delete pages or posts if you're not happy. Start adding text and images to pages and preview them to your little heart's content – then print the publish button when you're happy to make it live on the web.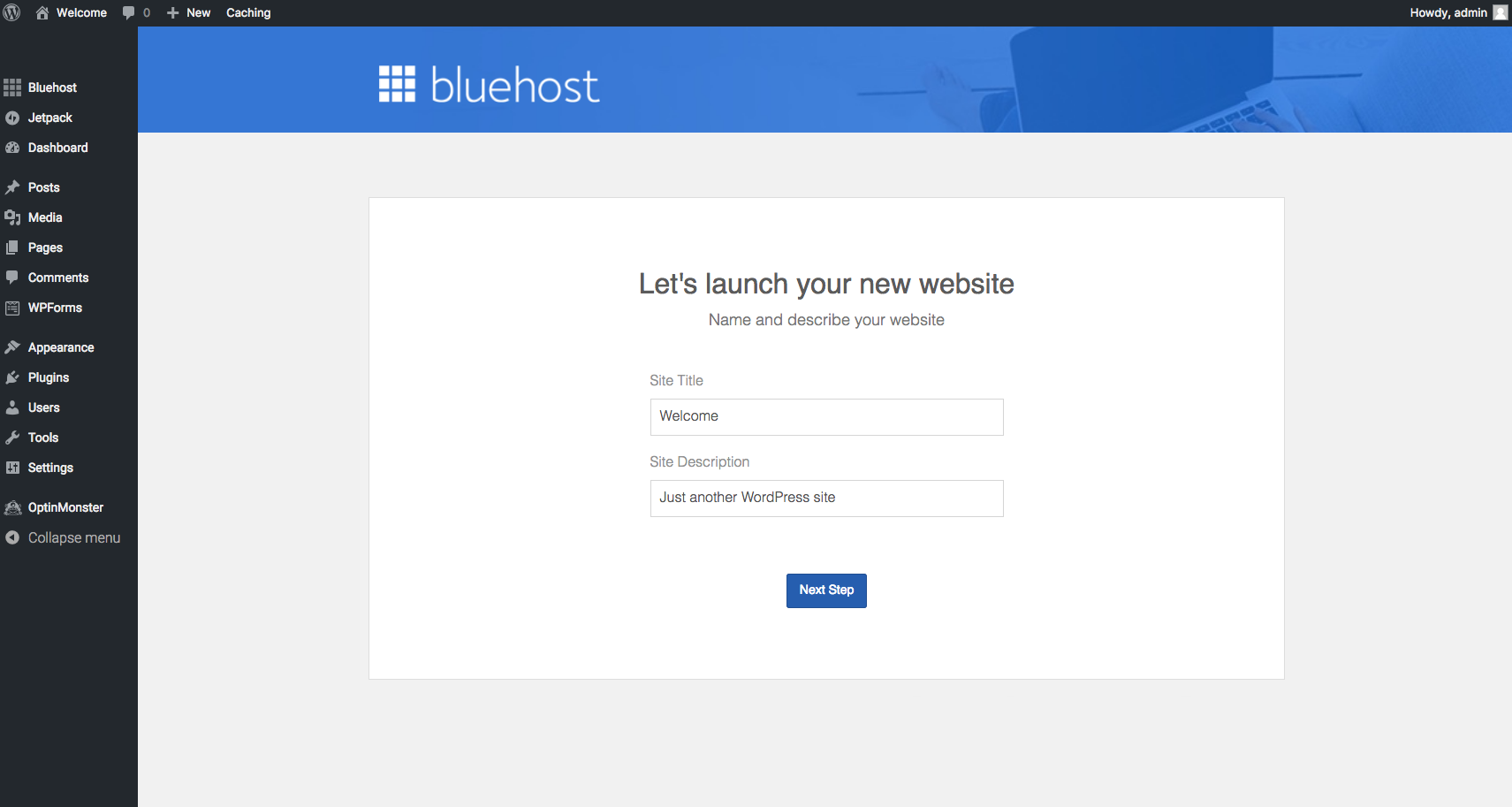 NEXT STAGE: BLUEHOST CONTROL PANEL

You have full control of your account with bluehost, and your domains and websites by logging into their control panel. Again, it's pretty well self explanatory with lots of useful help topics to get you going.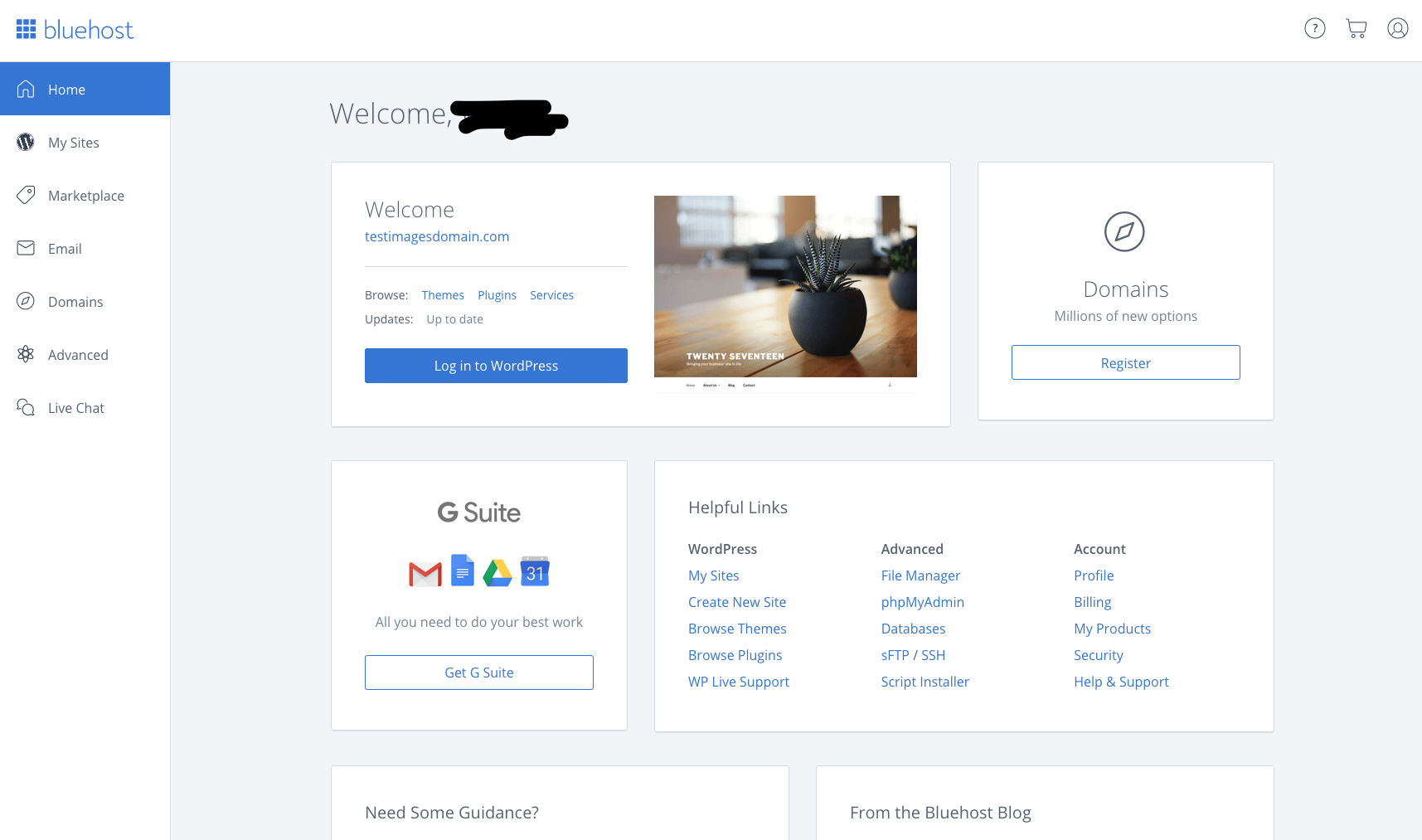 CONCLUSION:
That's about it really, you'll learn a whole lot more when you actually take the plunge and signup at Bluehost. The biggest advantage of course is their 'one click wordpress install' which truly takes the hassle out of getting wordpress up and running.
SOME ADVANTAGES TO USING BLUEHOST TO HOST YOUR WORDRESS SITE
MORE DETAILS
•Premium customer service, reliability and usability
•Easy-to-use control panel
•Custom-built servers to provide the most stable and reliable hosting environment
•Quickly get started with our one-click WordPress install provided by MOJO Marketplace
•Expert, in-house technical support provided 24 hours a day, 7 days a week
•Unlimited websites, email accounts, and domains – all on one account at an affordable price
•No gimmicks, no contracts. Enjoy the comfort of a 30-day money back guarantee and the option to cancel at any time
Over 28% of the websites on the internet run on Wordpress software
DISCLOSURE:
Disclosure: We are a professional review site that receives compensation from the companies whose products we review. We test each product thoroughly and give high marks to only the very best. We are independently owned and the opinions expressed here are our own.